Located on the West Side of Manhattan, is one of NYC's most vibrant neighbourhoods known as the Meatpacking District. The name dates back some 200 years to an era when more than 250 slaughterhouses and meatpacking plants filled the area. Today those same cobblestone streets are home to some of the trendiest restaurants and nightclubs as well as upscale shops and boutiques. There is so much to see and do a mist this area's architecture and character. Here are just a few of the "must-sees" in an area the locals refer to as "MePa".
High Line
The High Line is an elevated linear park that was built on an abandoned railway. The 2.33 kilometre-long stretch was resurrected in 2009 after the original rail went out of use in 1980. The trail runs from Hudson Yard to the northern edge of Chelsea. You'll enjoy some of the best views in NYC while walking or jogging among the colourful wildflowers, lush greenery and outdoor art.
Whitney Museum of American Art
Known by locals at the "Whitney", the museum has been around since 1931 when it was founded by Gertrude Vanderbilt Whitney, a wealthy socialite and art patron for whom the museum is named. The museum's permanent collection comprises more than 21,000 paintings, prints, drawings and sculptures.
Gansevoort Market
Located in the heart of the Meatpacking, Gansevoort Market is a foodie's paradise. The Gansevoort Market is a unique food market specializing in providing the highest quality foods from local and international vendors. Among the eclectic vendors, you'll find Eggplant Parm Sliders, Spicy Chicken Basil, and Pastrami Taco. These are just a few of the options to whet your appetite.
Samsung 837
Samsung 837 is more than a flagship store, it's a fully innovative technology exhibit. Visitors can enjoy a memorable technological experience showcasing Samsung's cutting edge devices. Samsung 837 offers an opportunity to try out a virtual reality experience or view their mammoth three-story high screen with stadium seating where you can view screenings and product demonstrations. They even offer live music performances within the facility for their visitors.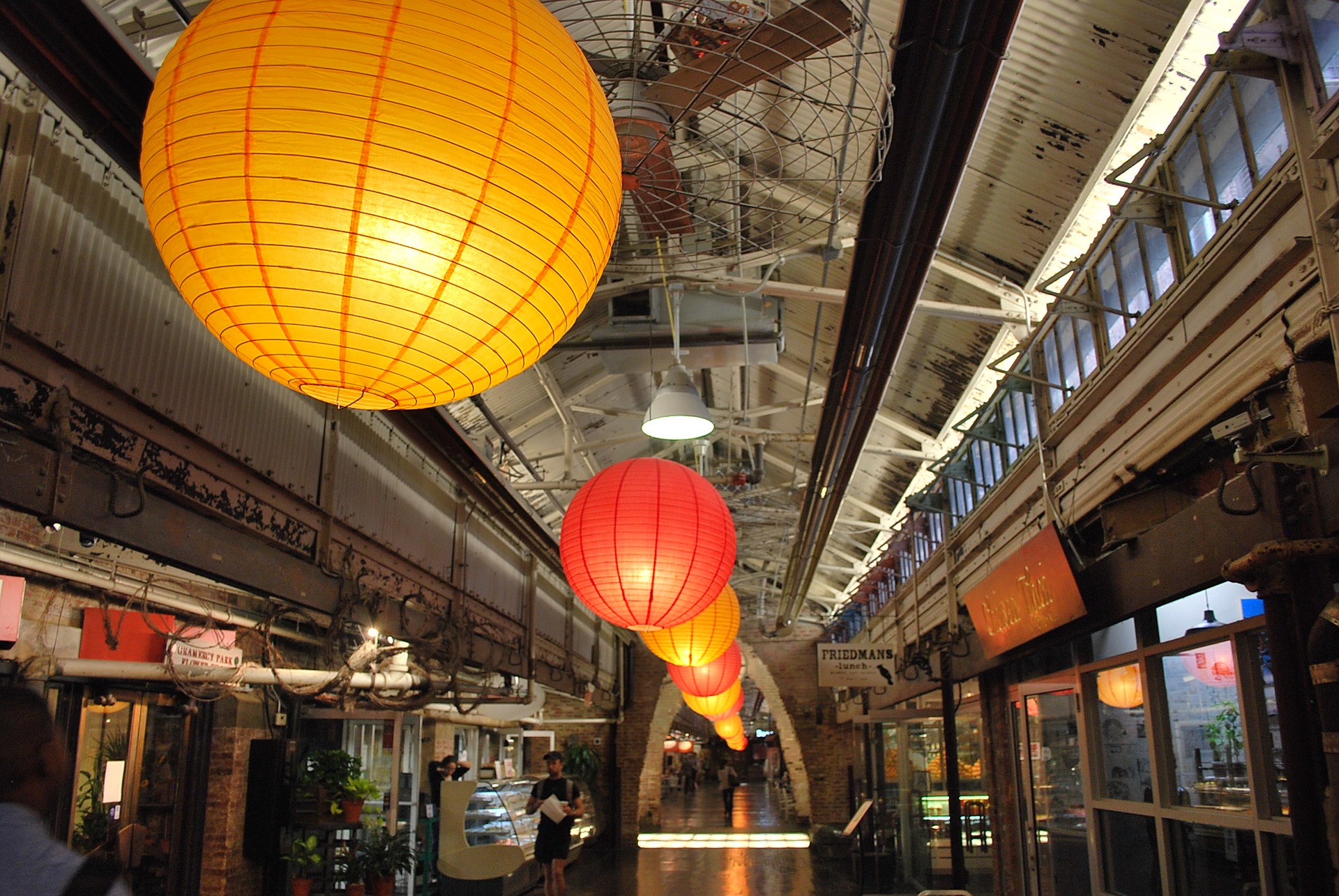 Chelsea Market is considered one of the best food halls in the world. Your holiday in the Big Apple would not be complete without a leisurely walk through this iconic market that takes up an entire city block. It was built in the former Nabisco factory complex and where Nabisco's world-famous Oreo cookie was invented. Visitors today will find much more than biscuits at this location today. Chelsea market is home to more than 35 vendors offering just about any sweet or savoury treat you fancy. You'll find everything from Mexican food to sushi to a decadent lobster bisque all under one roof. Be sure to visit the many shops within the market where you'll be certain to find that special souvenir of your holiday abroad.
The Sugar Factory
You'll find Sugar Factory in many of worlds trendiest cities so it's no wonder that NYC's Meatpacking District is home to one on these iconic establishments. Sugar Factory is known world-wide for its celebrity-endorsed Couture Pops. Folks who are in-the-know are aware that Sugar Factory sweets have been transformed into a celebrity accessory. Superstars such as, Britney Spears, Nicole Scherzinger, Kim Kardashian and Eva Longoria are some of the famous patrons who have either endorsed or have been spotted with Sugar Factory's sparkly lollipop. Sugar Factory is more than a celebrity candy shop, it's an American Brasserie offering guests a true dining experience from their team of world-class chefs. Don't forget to order one of their well-known spirits such as their signature 36-ounce alcohol-infused smoking candy goblets. A perfect way to cap off this memorable dining experience.
Bubby's
There is certainly no shortage of amazing restaurants dotted all around the Meatpacking District. As you are eating your way through the city be sure to add Bubby's to your gastronomy experience. Twenty-six years ago, Bubby's started out baking homemade delicious pies and selling them to restaurants, friends and neighbours. Today they are known for their made-from-scratch American cooking and pie shop. They offer a true dining experience by welcoming each guest as if you've just entered their home. They will explain how the ingredients were sourced and explains why their dishes are so fresh and delicious. They offer an extra-special personalized service that you rarely find today.
These are just a few of the many attractions to enjoy in this trendy NYC neighborhood rich in history, charm and character. With so much to see and do it's easy to see why NYC's Meatpacking District tops the Bucket List of visitor from around the world looking for an authentic NYC experience.
For our pick of the best Meatpacking District hotels, check out our guide.