On a swelteringly hot and humid day, New York Hotels with rooftop Pools where you can cool off high above the madness of the city can be a true God-send.
Luckily, the city is full of sun-basking opportunities where sweaty tourists can escape the hustle and bustle and laze around in unfettered comfort — knowing where to find them in this sprawling metropolis can be the tricky part.
There are places all over the city where you can take a dip and cool down, but for the best views and easy access you need to book accommodation that has this feature. Fortunately, these are in abundance in NYC, so if you're looking for a hotel with a rooftop pool, New York is a great option. Here are our 5 favourite New York Hotels with rooftop Pools where you can cool in the pool this summer.
1 Hotel Brooklyn Bridge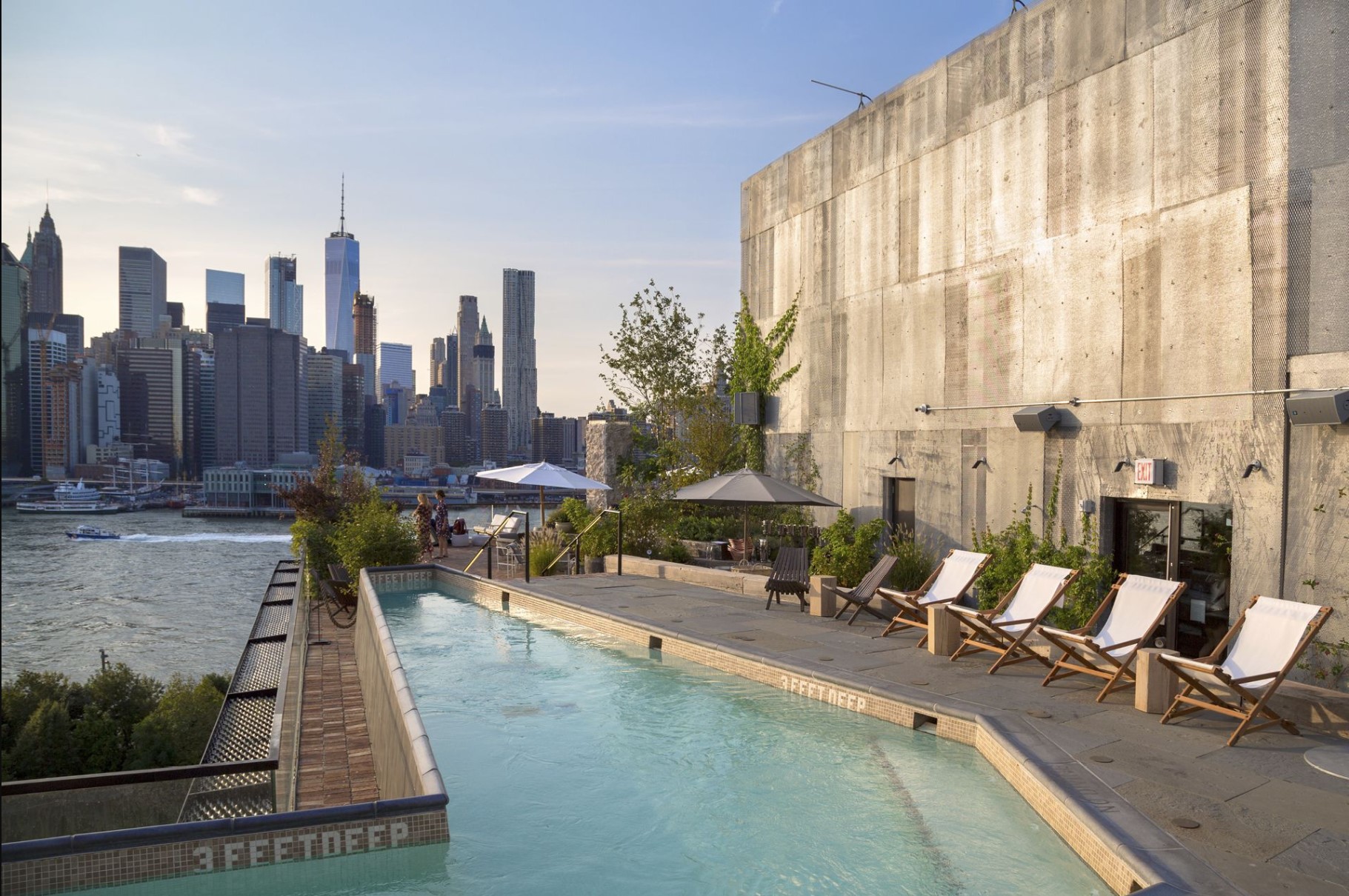 If it's spectacular views you're after, you won't find much better than this newly-opened 5-star property located in Brooklyn.
The 1 Hotel Brooklyn Bridge describes itself as an eco-luxury property, using reclaimed materials and naturally sourced furnishing to decorate its 104 attractively designed rooms.
The hotel also has on-site restaurants selling excellent fare made from local produce, however it's the rooftop pool area that really sets this place apart. Head up to the top floor for a dip and prepare to be amazed as the 360-degree panoramic views of the sweeping Manhattan skyline could quite literally take your breath away. The cocktails aren't bad either.
Brooklyn Bridge,
New York, NY
10038,
Book 1 Hotel Brooklyn Bridge with Expedia
Jimmy at the James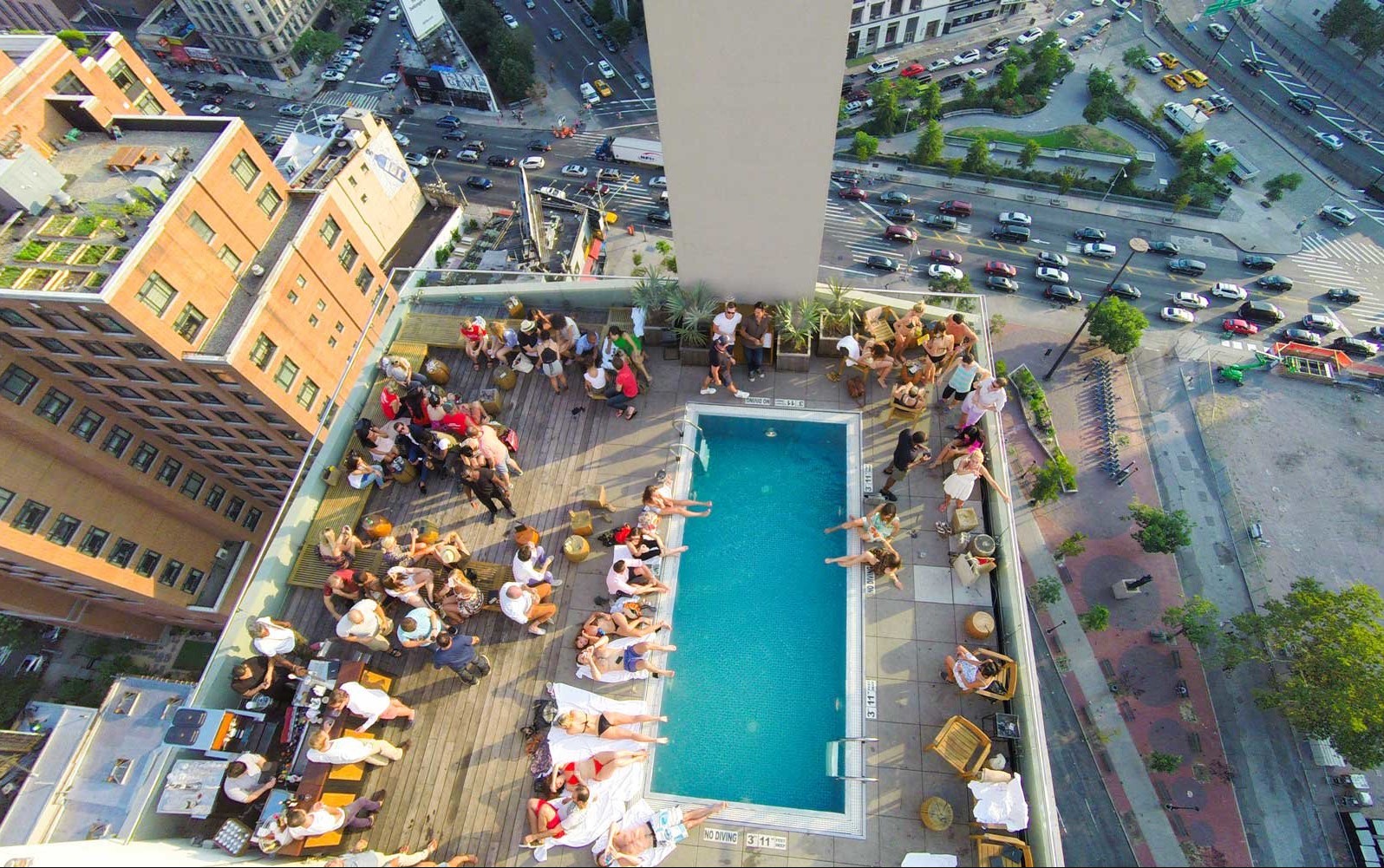 One of the swankier New York Hotels with rooftop Pools on this list, the James Hotel melds exquisite design with personalised service to offer some of the most impressive accommodation in New York City.
The 114-room boutique property is situated in the popular, upmarket neighbourhood of SoHo and true to this neighbourhood's luxurious and expensive reputation, the James pulls out all the stops for its guests.
Stylish, luxurious decor can be seen throughout, and there are yoga classes and an urban garden on the second floor, although the hotel's main attraction is the rooftop pool area, which provides impressive views of Downtown NYC.
The pool terrace is open to the general public after 3pm during the summer, and can be a popular hang-out with locals —particularly if the weather's nice — so it could offer a great place to meet people if you're travelling alone. While there are many New York hotels with rooftop bars, not many compare to Jimmy at the James.
27 Grand St,
New York,
NY 10013,
Book the James Hotel with Expedia
Gansevoort Meatpacking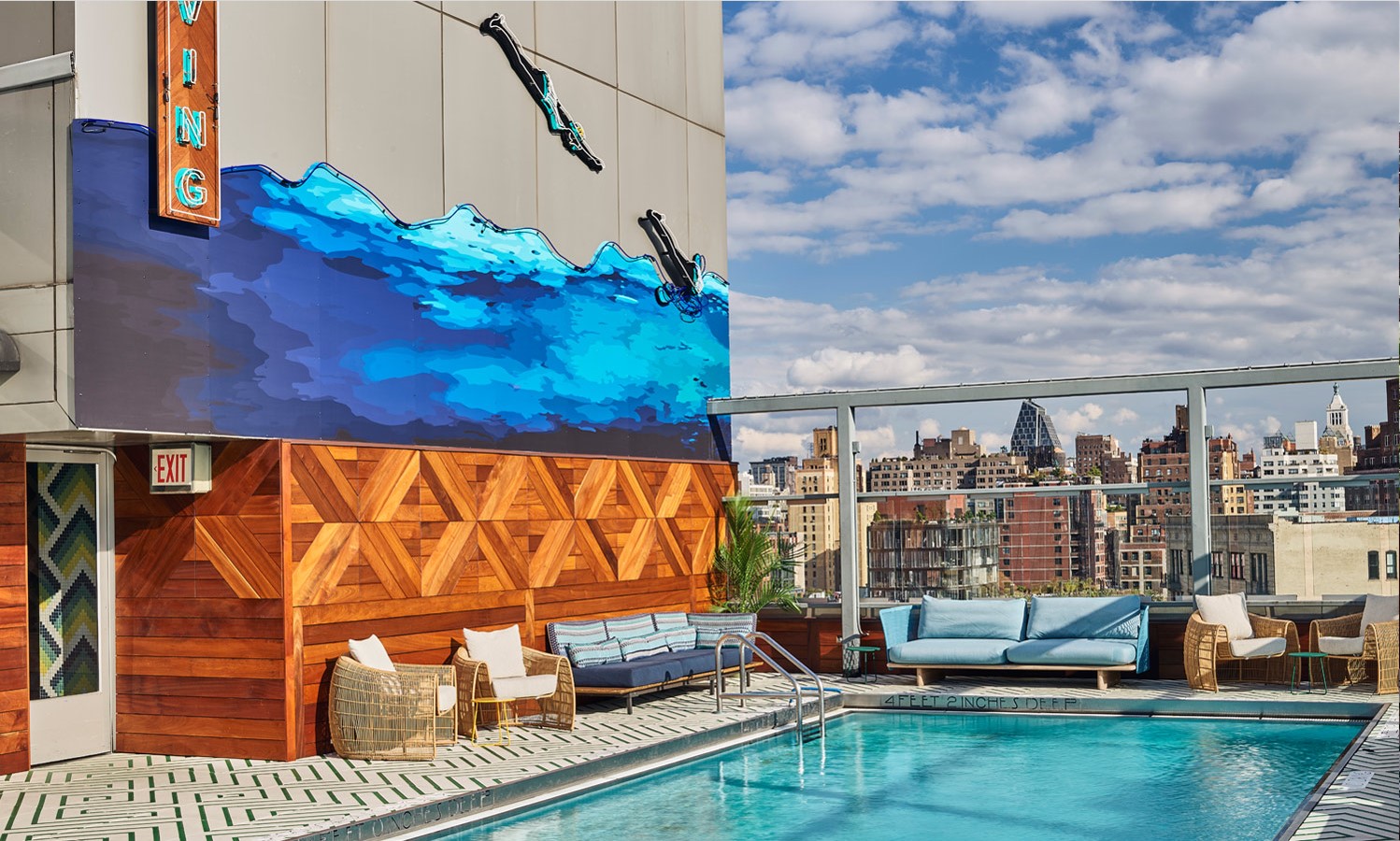 Situated right in the heart of Manhattan's hip Meatpacking District is the Gansevoort, a great place to stay for those with an incredible rooftop pool area high on their wishlist.
This snazzy hotel, widely considered one of the "trendiest" in the whole of New York, is another property offering unbeatable photo opportunities. Guests at the summit are treated to spectacular views of some of NYC's most famous structures; as well as sunset views over the Hudson River.
Although the pool is reserved for guests, the general public are welcome to visit the rooftop cocktail bar, where you can take in the same magnificent views.
18, 9th Ave,
New York, NY
10014,
Book the Gansevoort Meatpacking with Expedia
Royalton Park Avenue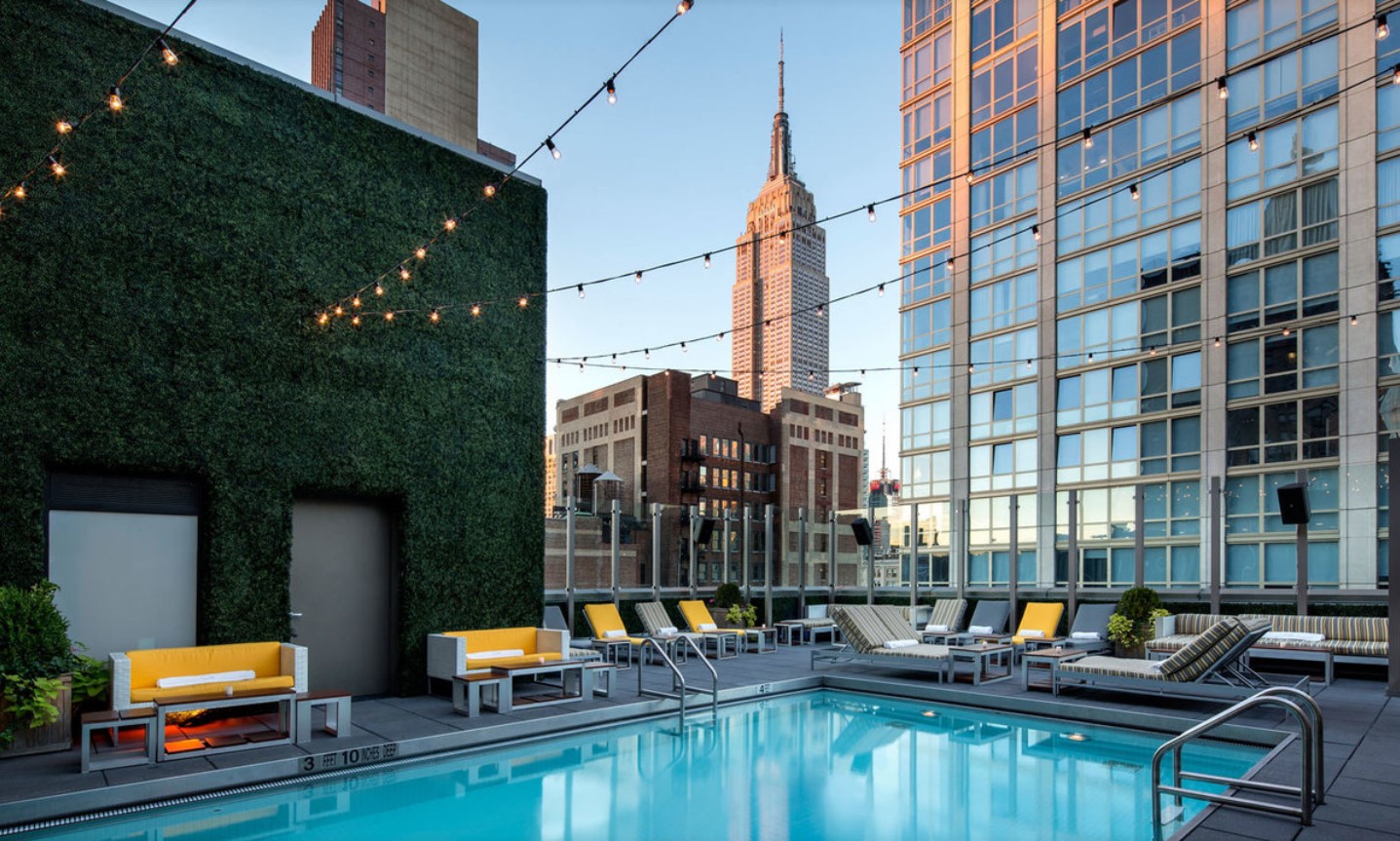 The Royalton Park Avenue is a posh, 5-star hotel in the trendy, upmarket NoMad village. One of the hotel's best features is the rooftop bar/cafe, where guests can grab a cocktail or a bite to eat while taking in some magnificent panoramic views of the city.
There's also live music during the summer with jazz bands and live DJs keeping guests entertained, so for somewhere you can make the most of the summer weather head to the Royalton Park Avenue to soak up the sunshine in style.
420 Park Ave S,
New York, NY
10016,
Book Royalton Park Avenue with Expedia
The Dominick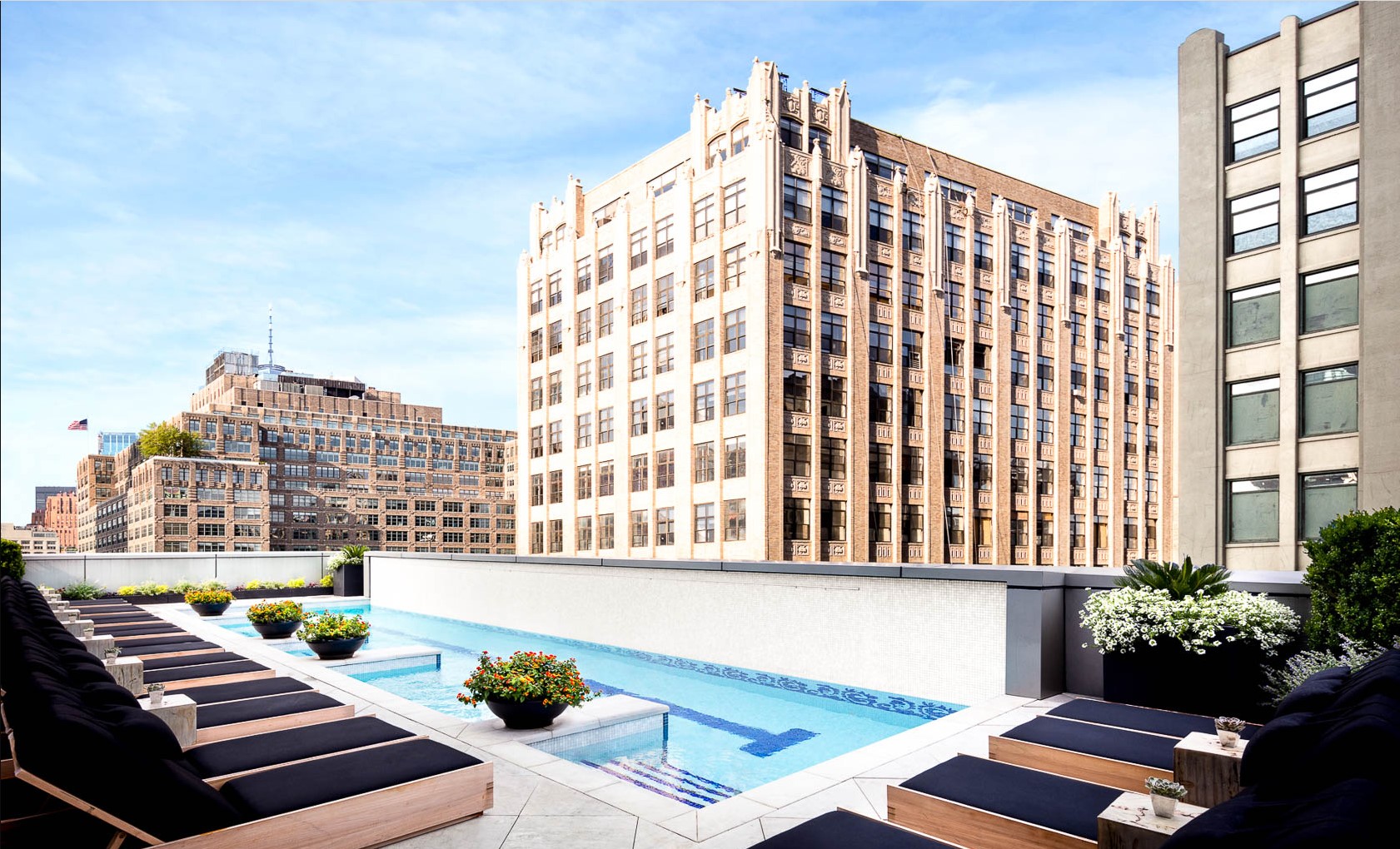 Okay, you got me. The pool at this hotel is on the 7th floor and not the rooftop, but don't let that put you off as it still offers great views, trust me!
Another property situated in the affluent SoHo, The Dominick is predictably luxurious, blending ultra-modern decor with a touch of sophistication that gives the hotel and its 391 rooms a warm and charming aesthetic.
After being given a recent facelift, the pool area was transformed into Terrace on 7 sushi & bar, and as you might have guessed you can order the Japanse favourite while you laze away at by the pool with a cocktail in hand.
With many of the hotel's rooms and the pool area overlooking the Hudson River, this is a great option for anyone headed to New York in search of great views.
246 Spring St,
New York, NY
10013,
Book The Dominick with Expedia
For people looking for hotels with a rooftop bar, New York in an excellent choice as it has so many options. Although these are our 5 favourites, there are many more to choose from if you'd like something a little different. For a helpful list of our pick of the best 5-star hotels in New York, take a look at our useful guide.