Nobody likes bed bugs or hair in the shower, and although any holiday in New York is best spent seeing the city's incredible sights and attractions, for most of us accommodation is still a major consideration worthy of a decent portion of our budget.
While we'd all love to save as many of those all-important dollars as possible, who doesn't like a comfy bed and all the trappings of a nice hotel after a tiring and hectic day of sightseeing?
Nobody, which is why when we're looking for somewhere to stay in the Big Apple, the majority of us are on the hunt for luxury that doesn't break the bank.
This where things can get difficult, as striking a balance between luxury and affordability can often prove tricky. Fortunately, though, we've done all the leg work for you by putting together this fine selection of hotels that offer comfort, convenience and excellent value-for-money at under $200 a night.
When hand-picking this selection, our search results were based on a 4-night stay in early August. So without further adieu, here's a list of 10 of the best 4-star hotels in New York.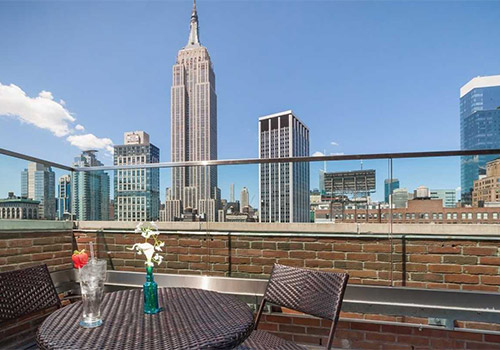 The Paul NYC – Located in the vibrant Nomad neighbourhood in downtown Manhattan, the Paul NYC provides contemporary New York chic in the beating heart of the city.
Each of the hotel's 122 rooms is stylishly designed, and the hotel's multi-pane windows provide guests with breath-taking views of the Empire State Building and Freedom Tower.
Amenities include a spacious bar and lounge area, a fitness centre, spa, restaurant and concierge to assist with tours and reservations.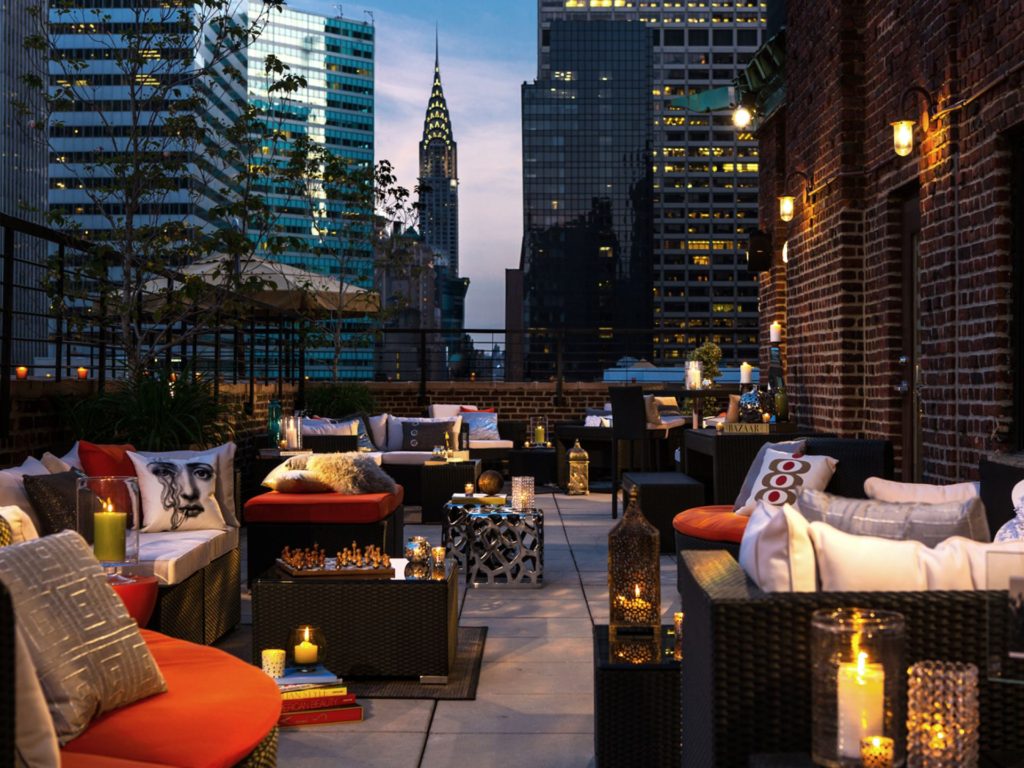 Renaissance New York Hotel 57 – Located within walking distance of some of Manhattan's most iconic landmarks including St Patrick's Cathedral, Central Park Fifth Avenue and Bloomingdale's, Renaissance New York 57 is fully restored boutique hotel that blends luxury and affordability.

Each of the rooms in the hotel is kitted out with luxury bedding, smart TVs, high-speed free Wi-Fi and private terraces, and the hotel benefits from numerous amenities including a gymnasium, a dry cleaning service and business centre.

Guests can upgrade their stay to one of the hotel's elegant suites, which offer excellent views of the city, as well as additional living space. Whichever room you choose you're sure to enjoy the comfort of the property, safe in the knowledge that your comfortable stay won't eat up all of your budget.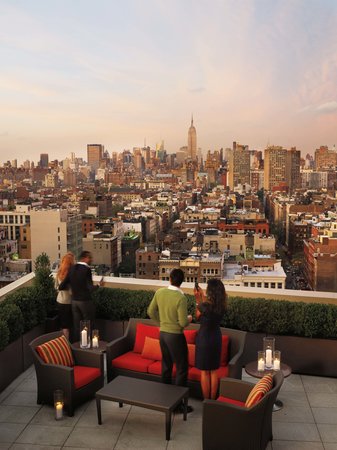 Sheraton Tribeca New York City – Sitting right in the thick of the action in Manhattan's trendy Tribeca neighbourhood, this conveniently-located hotel is a stone's throw away from many of New York's premier attractions.

The hotel provides a business centre, as well as a modern and energetic lobby and bar that's perfect for meeting other guests and socialising, so whether you're in town for business or pleasure, the Sheraton Tribeca has all the facilities to provide an enjoyable stay.

The hotel also boasts a 1,000-square-foot, state-of-the-art fitness centre, which guests can use 24-hours-a-day, as well as a computer terminal with machines open for patrons to use as and when they please – great for keeping on top of business or staying in touch with family.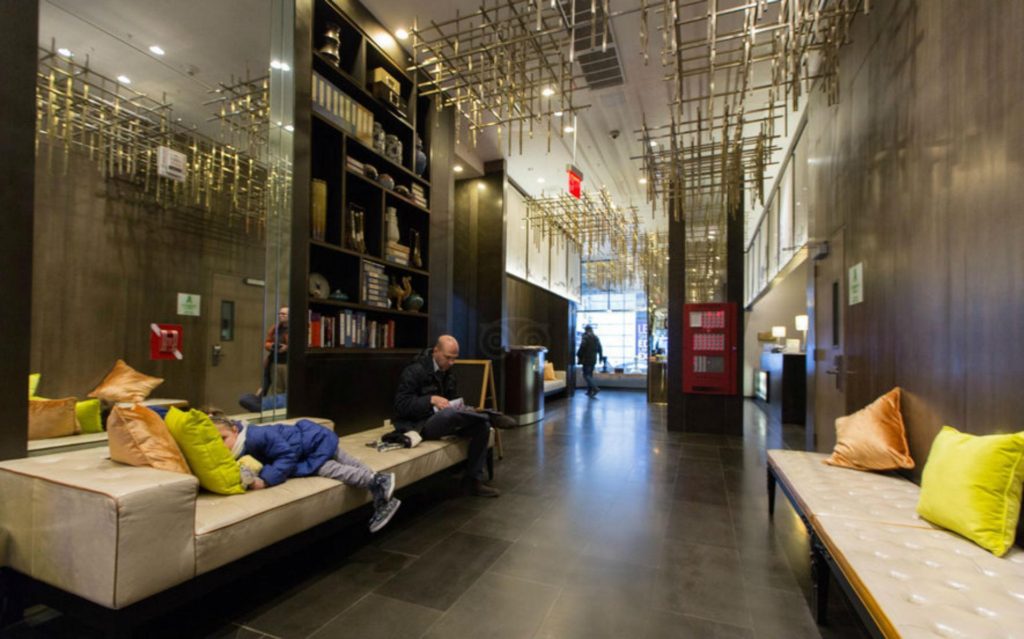 Holiday Inn Manhattan – Financial District – They say that New York is "the city that never sleeps" but according to the Holiday Inn Manhattan one thing you're guaranteed is a good night's rest when you stay at their property in the Financial district.

The hotel is another property on this list that benefits from a prime location, as it's situated just a few blocks away from dozens of must-see landmarks, including the 9/11 memorial, Wall Street and the Statue of Liberty.

Each room features luxury bedding, flat screen HD TVs and coffee machines, and guests in town on business can take advantage of the hotel's state-of-the-art business centre and in-room desk facilities.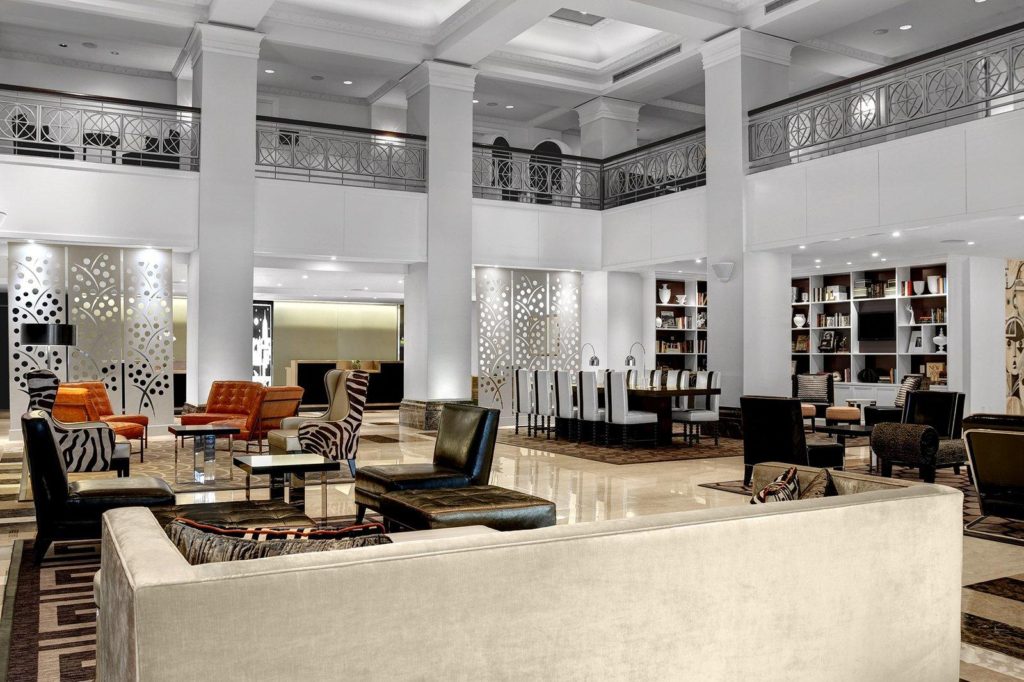 The Lexington Hotel, Autograph Collection – The Lexington Hotel Autograph Collection in Midtown Manhattan was reopened in 2013 after receiving a revamp as part of Marriott's $46m transformation project.

The result is a stylish and modern luxury hotel benefiting from a variety of excellent amenities including a bar & lounge, concierge, a fitness centre and conference facilities. Each room has been designed using boutique decor inspired by the Jazz Age, many of them featuring pullout sofas and outdoor balconies to offer guests added comfort throughout their stay.
The hotel also caters for parties and events, with 5 rooms available for guests looking to celebrate a special occasion, making the hotel a perfect choice for those looking to tie the knot or celebrate a birthday with friends and family.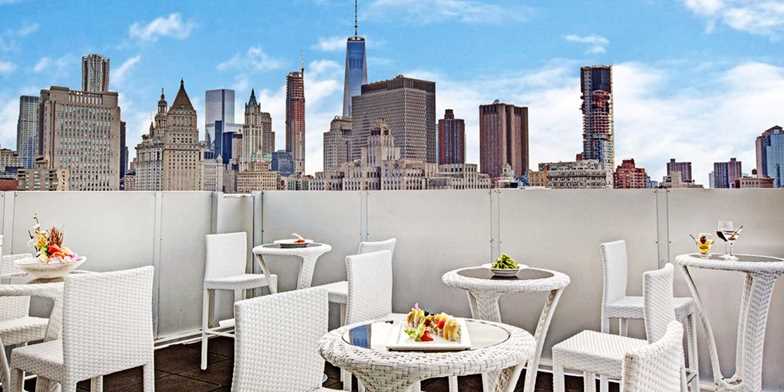 Wyndham Garden Chinatown – This boutique-style property, situated in the Chinatown neighbourhood of Manhattan, is ranked among the best 4-star hotels in New York and it's easy to see why.
As well as it's incredible location – just steps from Soho and Little Italy and all of the attractions in the area – many of the hotel's rooms offer guests an enchanting view of the Empire State Building and the New York City skyline.
The location of the hotel also makes it an ideal choice for foodies or anyone looking to grab some great grub in one of the many Italian and South East Asian restaurants nearby, and there are also some excellent art galleries and museums within touching distance – great news for the more sophisticated traveller!
The hotel also boasts an impressive array of amenities including a restaurant, bar & lounge and a beer garden where you can catch some rays while sipping on an ice cold beer – weather permitting, of course!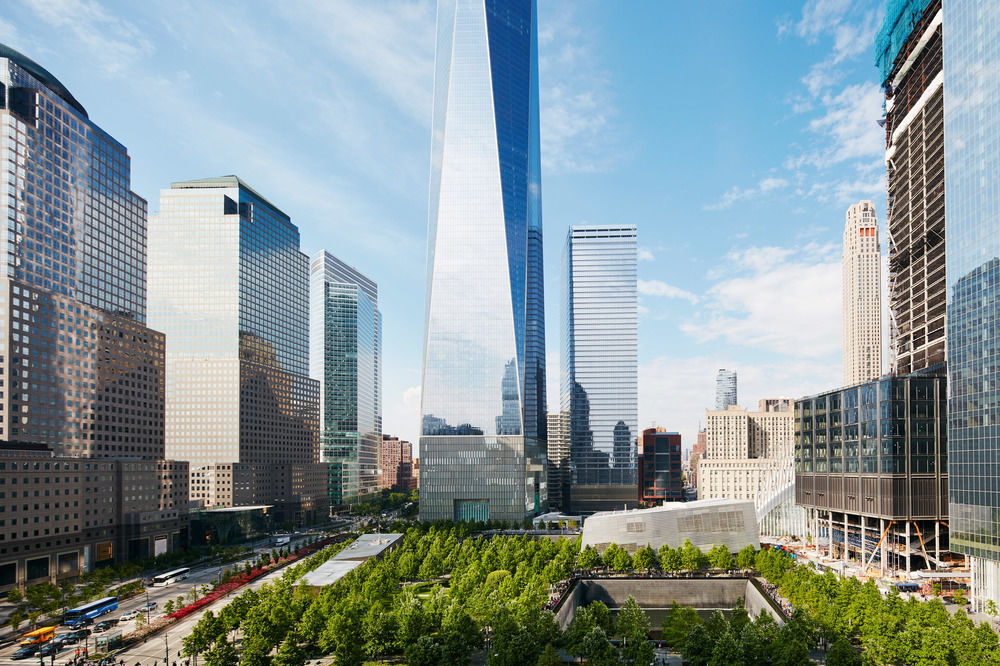 World Center Hotel – The World Center Hotel is located on the south side of the 9/11 memorial in the heart of downtown Manhattan.
The hotel's features and amenities mark it as a standout choice for those whose trips are more work-related, with the hotel boasting a business centre, 3 meeting spaces and conference facilities, while each room benefits from Ergonomic workstations and free, high-speed internet access.
Couple the hotel's range of facilities with the fact it sits in the middle of some of the finest bars and restaurants the city has to offer, and you'll see why World Center Hotel is such a popular choice with hundreds of rave reviews on TripAdvisor.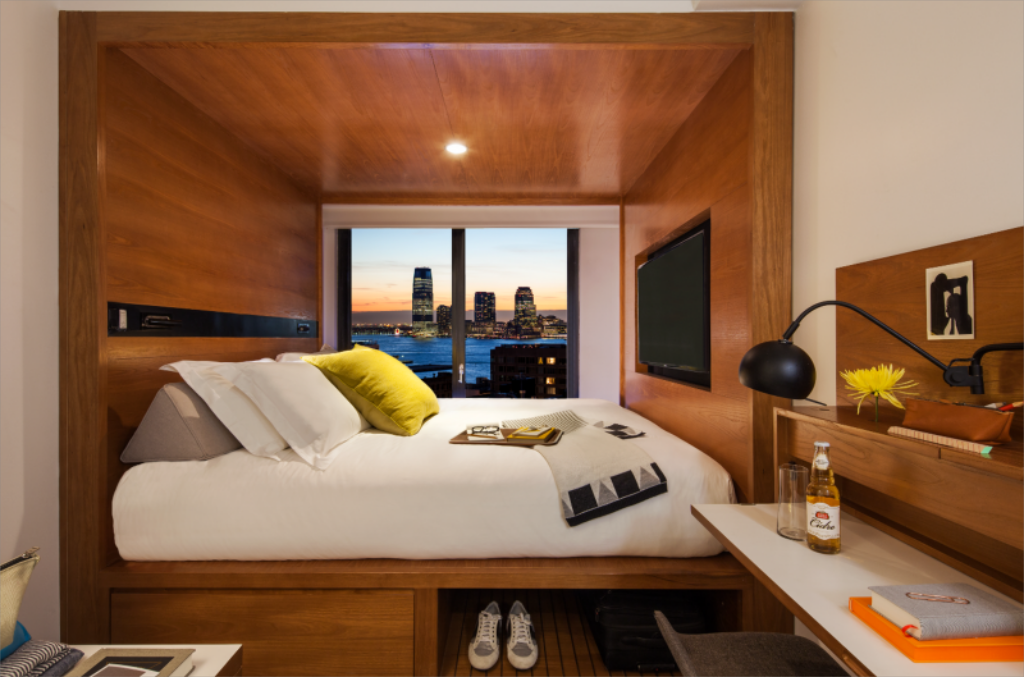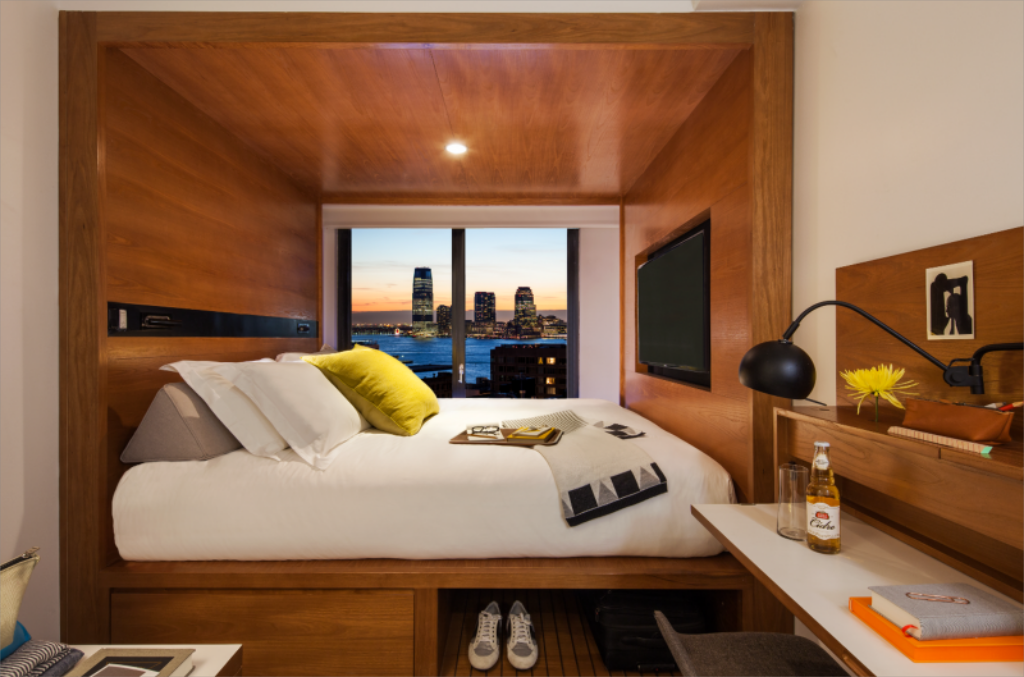 Arlo SoHo – This trendy place based in the uber-popular neighbourhood of Soho in Manhattan is currently one of the most award-winning 4-star hotels in New York.
Although I'll avoid listing each individual award the hotel has won over the past few years as it'd make for a pretty boring editorial, a couple of the most impressive include and 2019 Lifestyle Hotel of the Year by the Boutique & Lifestyle Leaders association and Winner of 2017 Indie Awards for Best Independent Hotel. For a list of all their awards visit their homepage.
The modern rooms, which are complemented with chic decor, come with a variety of bed types and views, so be sure to ask at reception which options are available and you might bag the perfect room for your requirements.

CitizenM New York Bowery – With wall-to-wall windows providing amazing views of the city, this stylish and ultra-modern boutique hotel located in the trendy Bowery area of Manhattan is a must for any traveller looking for quality accommodation at affordable rates.
One of the hotel's mottos is the bigger your bed the bigger your dreams, which is why they provide an XL-king, complete with fluffy pillows and the finest luxury bedding, in each of their rooms. The city that never sleeps might just need a new moniker!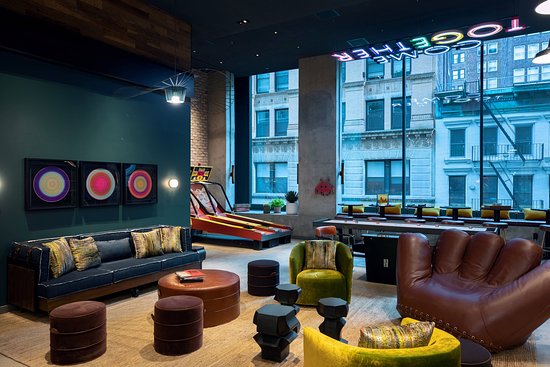 Moxy NYC Downtown – If value is your primary concern, look no further than the Moxy in downtown Manhattan.

Although it's the cheapest hotel on this list, don't let the low price of these rooms fool you – this is one of the best value-for-money 4-star hotels in New York. The hotel may be low on cost, however, it compromises nothing on quality and provides some of the most stylish and spacious rooms in the city.

There are also a number of lounge areas, beautifully decorated with quirky, artsy furniture and decor, which provide an excellent meeting place for guests.
For anyone looking at a little more luxury, take a look at our guide to the best value 5 -star hotels in New York here.