Bryant Park provides visitors with a tranquil oasis right in the heart of Midtown Manhattan Visitors will hardly realize they're a mere block from the bustle of Times Square. Whether you plan to unwind with a cup of coffee, soak in the sunshine or on a quest to keep the kids busy, Bryant Park is the perfect tranquil spot on your New York weekend break. Oh and did I mention there's free WiFi?
The park is conveniently nestled between 5th and 6th and 40th and 42nd. Visitor entering from the western entrance will be greeted by the park's iconic bronze fountain. The fountain is a dedication to Josephine Shaw Lowell, a well known social worker during the nineteenth century. The park not only houses the New York Public Library but it's actually located atop the library's underground book storage area.
The designation of Bryant Park as public space dates back to a time when the area was still wilderness. In 1686, Governor Thomas Dongan had the foresight to set aside this patch of midtown as open space. It remained as such until 1823 when the area was designated as a graveyard for the poor, known at the time as Potter's Field. In 1840 thousands of bodies were relocated to Wards Island and the area was subsequently renamed Reservoir Square. In 1884, the park was named Bryant Park to honor New York Evening Post editor and journalist, William Cullen Bryant.
There are so many activities to take part in on this nearly 10-acre patch of grass in Midtown Manhattan. With over 1,000 free classes, activities, year-round and seasonal events, there's something for everyone. The park offers a variety of fitness classes such as Boot Camp, TaiChi, and Fencing. If you've ever wanted to learn to juggle then Bryant Park is the place. Tours are offered to learn more about the park and its habitat or visitors can sit and enjoy a game of chess or backgammon. Bring the kids as there are a variety of children's programs to keep the littles entertained.
During the winter months, those longing for a European Christmas Market don't need to travel to Cologne, Germany. Bryant Park offers its own European-inspired open-air market. Artisans gather from around the world to sell their one-of-a-kind treasures. Bryant Park puts visitors in the holiday spirit with its own tree lighting ceremony, ice skating, and Santa's corner.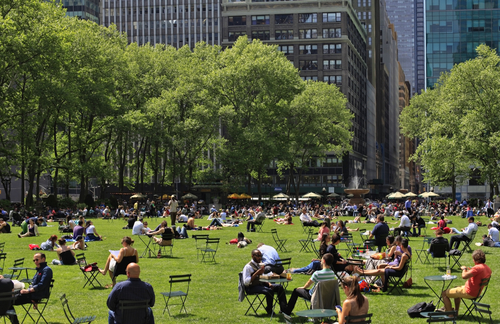 In the summer months, Bryant Park hosts a Summer Film Festival. Films begin at sunset but arrive early for the pre-show entertainment. Tourists can catch a little bit of Broadway right in Bryant Park. On select summer days, park visitors can enjoy a one-hour lunchtime Broadway performance in this Midtown garden.
If you forgot to pack a picnic lunch, the park has you covered with a variety of culinary options. If you are looking for something quick, grab a bite at one of Bryant Park's food kiosks. Le Pain Quotidien offers park visitors their choice of sustainable lunch options in an ever-changing menu. Get your java fix at Joe Coffee Company or grab a fresh Belgian waffle at Wafels and Dinges. This popular kiosk serves up hot waffles and a variety of dinges (toppings).
For something a bit more elegant, Bryant Park Grill is located behind the iconic New York Public Library. It offers an elegant Parisian-inspired dining experience overlooking the park. Dine in Bryant Park Grill's elegant dining room or enjoy the fresh air and views of the park on their rooftop terrace. The enclosed outside patio offers a more casual dining experience.
For more unmissable things to do and see, check out our guide to the best New York tours.