So New York's City's abundance of landmarks, a multitude of sporting activities and innumerable world-class restaurants aren't quite satisfying enough and you're looking for some unique things to do in NYC? Well, fortunately, you've come to the right place!
New York certainly packs a punch when it comes to things to do and see, but while the city's classic tourist attractions leave the majority of its visitors satiated, for those looking to do something a little out of the ordinary here are a few things that should pique your attention.
NYC Helicopter Tour:
If you're looking for unique things to do in New York while getting some unrivalled views of the city then what better way to catch the city's stunning sights than in a helicopter? In a helicopter with no doors, obviously!
Yes, that's right, you can literally be dangling out of the side of a doorless helicopter – attached to a harness of course – as your pilot takes you across New York on this aerial photography tour in search of some unbeatable views of the city's premier tourist attractions.
The company making this incredible experience possible is FlyNYON, a unique tour operator who provide their services to tourists looking for a little added excitement from their excursions.
FlyNYON provide a range of packages which cater for all requirements, including their "doors-off" tour, where you can take spine-tingling snaps of your shoes dangling above the Statue of Liberty, as well as the more conventional helicopter experiences, where your feet stay safely inside the aircraft!
For more information on their packages, including deals and promotional offerings, visit their website.
Walking Street Food Tour of New York: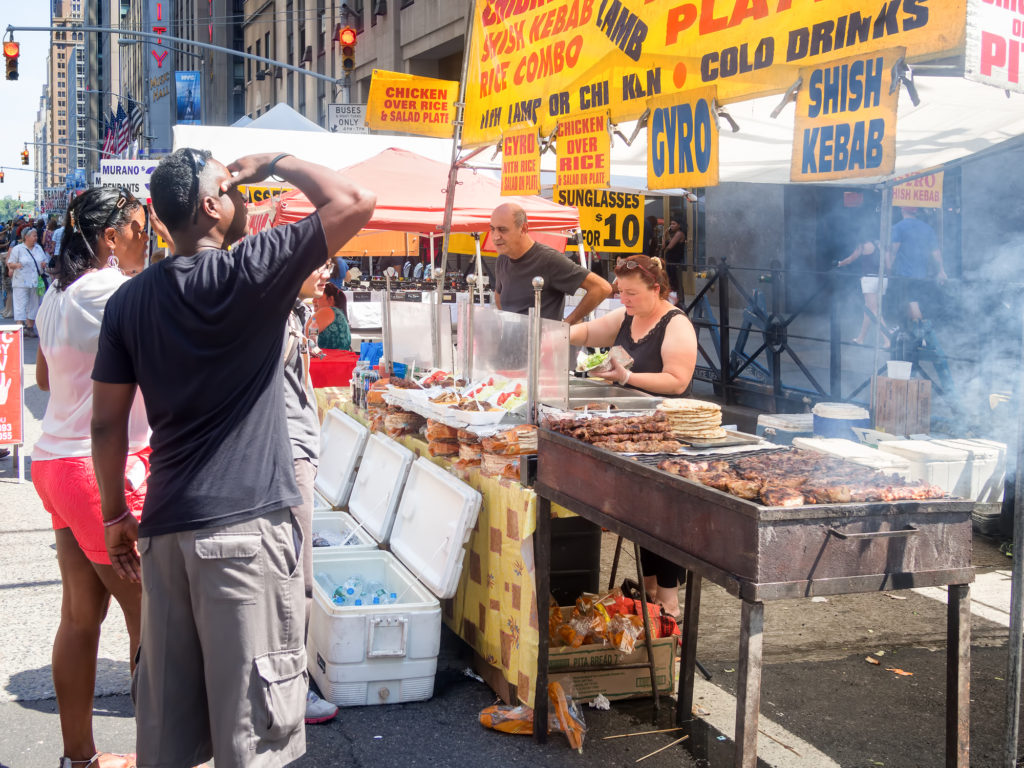 If you're a foodie looking for unique things to do in NYC, look no further than this walking tour where you can get stuck into some of the city's best street food while you're on the move.
Nice Guy Tours is run by CEO Dante Mechante, a man who knows New York City almost as well as he knows his food. Dante is a lifelong New Yorker with many stories to share, and he'll provide a personalised tour while showing you some of the culinary delights the city has to offer.
The flexible operator provides a variety of options covering different parts of the city, and each individual tour offers its own distinctive flavours. Check out our comprehensive guide to Nice Guy Tours, and take your taste-buds for a wander around New York.
Golf in NYC:
Okay so perhaps golf isn't the most unusual activity in the world, although hitting the fairway isn't what most tourists expect to be getting up to when they visit a sprawling metropolis such as New York.
However, that's exactly what you can find yourself doing as the city is home to Van Cortlandt – the first public golf course to be built in the US – which is located in a leafy 1,146-acre park in the Bronx.
Since being constructed in 1895, the course's beautiful, manicured setting has provided golf enthusiasts with the opportunity to unwind and escape the hustle and bustle of the teeming city.
So if you're a seasoned golfer, or perhaps just a curious beginner who fancies hitting 18-holes and escaping the concrete jungle for a while, check out the website for information on entrance fees and opening times, and you can be teeing off on the oldest public golf course in America.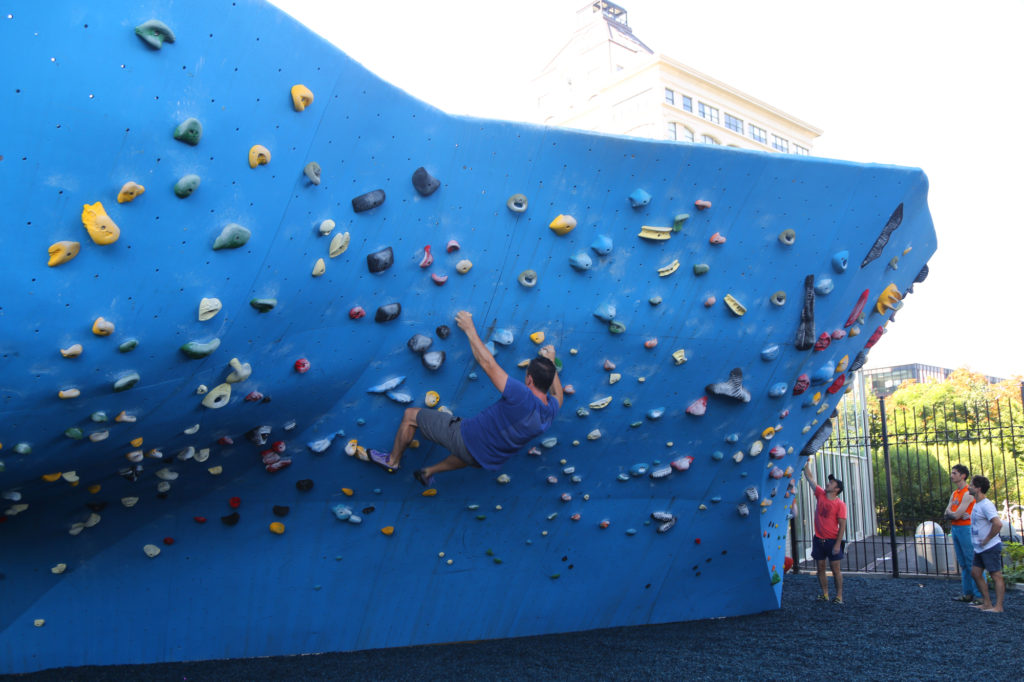 Wall-Climbing in NYC:
For one of the more unique things to do in NYC, get that adrenaline pumping and unleash the inner Peter Parker in you by trying out one of the increasingly popular rock climbing spaces in the area.
Tucked away below the Brooklyn Bridge on the banks of the East River lies Dumbo Boulders, the city's first outdoor rock climbing facility. The 7,800-square foot climbing wall offers thrill-seekers the chance to hone their wall-clinging skills underneath the city's picturesque Manhattan skyline, making this one truly unforgettable action-packed activity – particularly if the weather's forgiving!
However, if the weather has other ideas, fear not – the city is home to a number of indoor facilities too, so you can still get your Spiderman on! Check out Central rock Gym and Brooklyn Boulders, two of the most recommended indoor climbing facilities in the area.