A former hat factory, the Refinery New York received a full renovation and the property is now a luxury hotel that offers some of the chicest accommodation in town
Set inside a Colony Arcade building in the Garment District, this hotel occupies one of the most storied properties in the area and the designers have done their utmost to retain some of that old-world charm.
The property offers guests stylish loft rooms, an award-winning restaurant, Jazz lounge with live musicians and a rooftop terrace that provides a meeting place for guests and locals alike.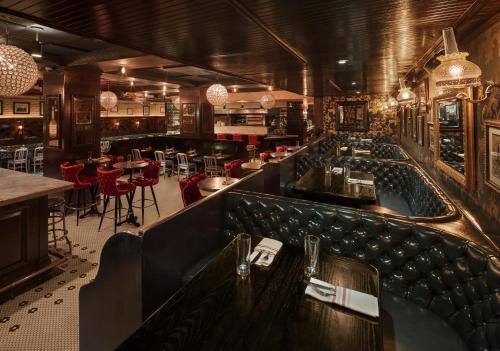 Situated in the heart of Midtown on the doorstep of Times Square and just a few blocks from Bryant Park, the hotel benefits from an awesome location, particularly if you're in New York for sightseeing or a spot of retail therapy.
The Refinery New York sits just a short distance from many of the city's premier attraction, with Macy's department store, the Empire State Building and the Rockefeller Center all conveniently within walking distance. There are also excellent transport links nearby, so even if you'd prefer to get out of the Midtown mania for a while you can be anywhere in the city in no time.
Services at the hotel include a concierge to assist with all your tour requirements, 24-hour fitness centre and even an in-room hair and make-up service provided by NOMI BEAUTY – perfect for prepping yourself for the buzzing night-life that awaits nearby.
As you'd expect in the heart of Midtown, there are a bunch of dining options nearby. As well as the various fast-food joints that are on every corner, there are Mexican, Chinese, and Jewish restaurants, amongst many others. There are also a couple of eateries within Bryant Park that provide great food with a scenic backdrop.
Distance to main attractions:
Times Square: 1.1 miles
Brooklyn Bridge: 5.0 miles
Empire State Building: 0.4 miles
Central Park: 1.7 miles
Broadway: 1.1 miles
New York Harbour (for Statue of Liberty): 3.4 miles
9/11 Memorial: 6.2 miles
Grand Central Station: 0.6 miles
The High Line: 1.2 miles
Rockefeller Center: 1.1 miles
Looking for more tips and information on the best properties in NYC? Check out our guide to the best 5-star hotels in New York
For guest reviews, availability and pricing on rooms at the Refinery head to the hotel's Expedia page
Location: