Since receiving a face-lift from acclaimed designer, Jacques Garcia, the NoMad Hotel has cemented itself as one of the most stylish places to stay in central Manhattan.
The fully restored turn-of-the-century Beaux-Arts building has the classic style of a grand European hotel with a modern New York twist. Each room has been designed with impeccable style, with original artwork and a timeless decor complimenting the beauty of the building perfectly.
With some impressive past work in his portfolio, Garcia was given the job of improving the aesthetic of the Flatiron-based property, and the Frenchman certainly hit the mark on this project. He designed each of the 168 rooms with a nod to the style he became accustomed to growing up in Paris, which means classic European elegance, combined with 17th and 18th-century influences to create a timeless distinction.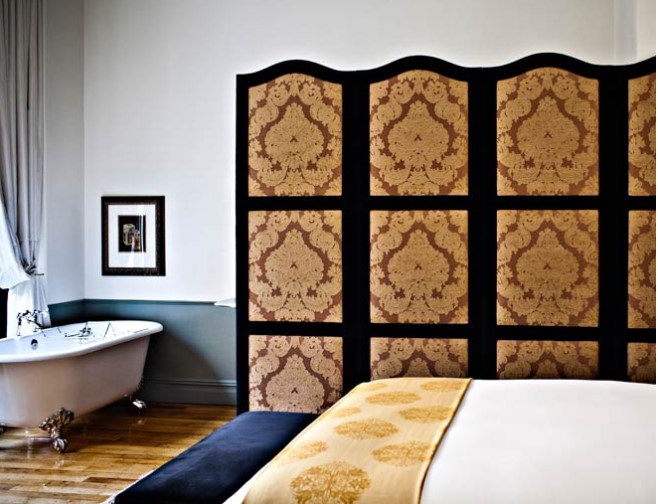 In addition to the white walls and tiled floors, each room has its own individual features, which range from the relatively standard such as Persian rugs and open fireplaces to the downright bold like freestanding bathtubs that are located in some of the bedrooms!
Set on Broadway and 28th Street, not many affordable, 5-star hotels have a better location than the NoMad Hotel New York and the property benefits from a range of amenities and features. These include a gym/fitness centre, concierge, dry cleaning and a restaurant & bar, meaning if it wasn't for the fact that you're in one of the most interesting cities in the world you might be tempted to stay indoors!
Dining options in Flatiron are aplenty, so if you're not content with the on-site restaurant thankfully there's a range of quality options nearby. Our favourites are Michelin star duo the Clocktower and Cote; the former serving UK cuisine with a modern twist, while the latter offers some of the best Korean food in the city. For something a little less fancy – not to mention affordable – Five Guys is also just around the corner and there are plenty other options within walking distance.
Distance to main attractions:
Times Square: 1.4 miles
Brooklyn Bridge: 2.9 miles
Empire State Building: 0.8 miles
Central Park: 2.2 miles
Broadway: 1.4 miles
New York Harbour (for Statue of Liberty): 2.8 miles
9/11 Memorial: 3.1 miles
Grand Central Station: 1.1 miles
The High Line: 1.6 miles
Rockefeller Center: 1.3 miles
For guest reviews, availability and pricing on rooms at the NoMad head to the hotel's Expedia page
In need of more tips and advice on where to stay in the Big Apple? Check out our guide on the best 5-star hotels in New York
Location: