Most people love Christmas; after all, it's a magical time of year. And what's even better than Christmas? Taking time off work and catching a plane to a New York at Christmas, that's what!
If you're one of these lucky people, there's absolutely no doubt about it – NYC is one of the best places to visit for the holidays. From the dazzling lights of Times Square to the snowy skyscrapers, not only is the city a treat for the eyes, but there is an abundance of things to do in New York at Christmas.
Whether you're heading there with family, or bravely going solo, here are 5 must do's if you're heading to NYC around Christmas.
1. Visit the Christmas tree at Rockefeller Center.
Anyone who's seen Home Alone 2: Lost in New York will probably have this activity at the top of their list during their Christmassy visit to the Big Apple.
This Christmas tree is perhaps one of the most famous trees in the world. And, at 76 feet tall with 45,000 LED bulbs, it sure is something to behold. Not only will the tree itself impress you, but the surrounding setting is beautiful.
The Rockefeller Center hosts the Christmas tree and has its own ice-skating rink at Christmas, as well as an array of outdoor lights and decorations. If you head there at night, hot chocolate in hand, to see everything lit up in all its glory – you simply won't regret it.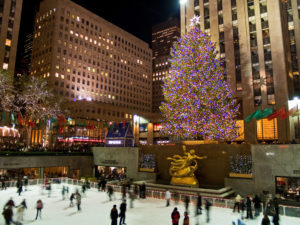 2. Go ice-skating in Central Park.
Ice-skating is one of the most Christmassy things you can do as we slowly get closer to Jesus' birthday. And the best place to ice-skate in New York in December is without a doubt, Central Park.
Buried within 843 acres of greenery, the Central Park ice-skating rink has the most picturesque views. Not only is the ice-skating rink itself decent in size, but the skyscrapers of Midtown serve as a very fitting backdrop.
Whether you choose to actually ice-skate, or simply wander around, Central Park is a great Christmassy setting to get lost in during your trip to NYC.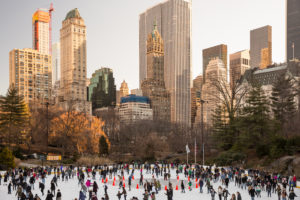 3. Do your Christmas shopping on Fifth Avenue.
Sure, NYC has multiple shopping destinations that are highly decorated and good for buying gifts at Christmas, but Fifth Avenue is our absolute favourite.
From the touristy souvenir shops to high street stores and designer boutiques, Fifth Avenue has enough variety to fulfil your every shopping need.
Also, be sure to check out the extremely Christmassy spectacles that are the department store window displays. Saks and Bergdorf Goodman tend to be two of the best – and kids, in particular, love them!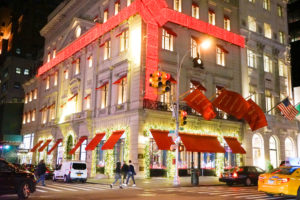 4. Visit Bryant Park's Winter Village.
Known as NYC's Winter Wonderland, Bryant Park's Winter Village is situated in the heart of Manhattan.
A smaller, more quaint version of Central Park surrounded by skyscrapers, The Winter Village is 17,000 square feet of holiday markets. It has over 125 shopping and food stalls, as well as its very own ice-skating rink! (Yes, another one!)
Bryant Park's Winter Village also has a Santa's Corner and StoryTime events, making it an ideal afternoon out for adults and kids alike.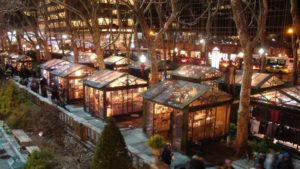 5. Head to the Top of the Rock.
Whilst you're visiting Rockefeller Center's Christmas tree, why not head up to the Top of the Rock? This is the name for the 70-story-high observation deck at Rockefeller Center, which is 850 feet above sea level.
Not only does the Top of the Rock give you a 360-degree view of The Concrete Jungle's amazing skyline, but you also get the best view of the famous Empire State Building. And, at Christmas, it's always lit up red and green.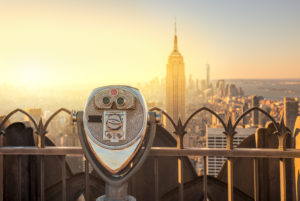 If you time it perfectly and head up the skyscraper just before sunset, you'll not only get majestic views of NYC during the day but also during sunset and at night. And, at Christmas, all of the decorative lights of the city make the experience even more breathtaking.
There really is so much to see and do when heading to New York at Christmas that you might struggle to fit it all in. Whether you cram as in as much as possible or stick to a couple of key activities, you certainly won't run out of options!
However, no matter what you decide, be sure to wrap up warm. Temperatures are guaranteed to be below freezing and you'll need your thermals. Sure, it's going to be chilly – but there's no way that the weather is going to stop you from having the best time in the City That Never Sleeps. Enjoy!
If you're heading to New York in December, make sure you also check out these activities.