When it comes to food, few do it better than the great city of New York.
In this part of the world, food is viewed almost religiously and with such delicious fare so readily available on practically every corner, grub-lovers can – and often do – get lost in the sea of excellent eateries dotted about across the city.
While the majority of the food NYC is famous for might not do your waistband any favours, by God it sure is tasty! So let down your hair, ignore the calorie-counter and gorge on the best things to eat in New York until your heart's content – besides it'll give you a good excuse to finally put that gym membership to use! Here's our pick of the foods you simply have to try while you're in New York.
NYC cheesecake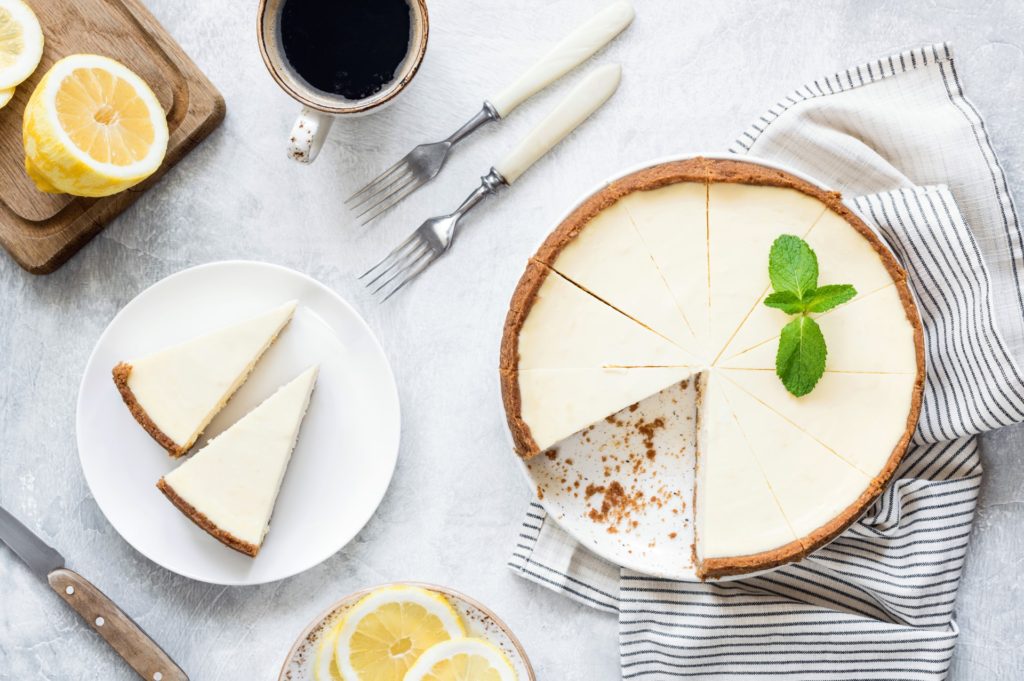 When we think of food that originated in New York, cheesecake is likely to be one of the first things that springs to mind. Although deserts made from cheese have been traced as far back as 700 b.c, cheesecake as we know it today – made with a soft creamy version of the dairy product – is a relatively new invention.
Cream cheese was invented in 1872 when a man named William Lawrence accidentally stumbled upon it whilst trying to make a type of French cheese. Lawrence then started to produce and distribute his brand new product in NYC, which was later used by German immigrant Arnold Rueben to make the cheesecake we know and love today.
It's sweet, it's fattening and it's unashamedly New York. We love it!
New York pizza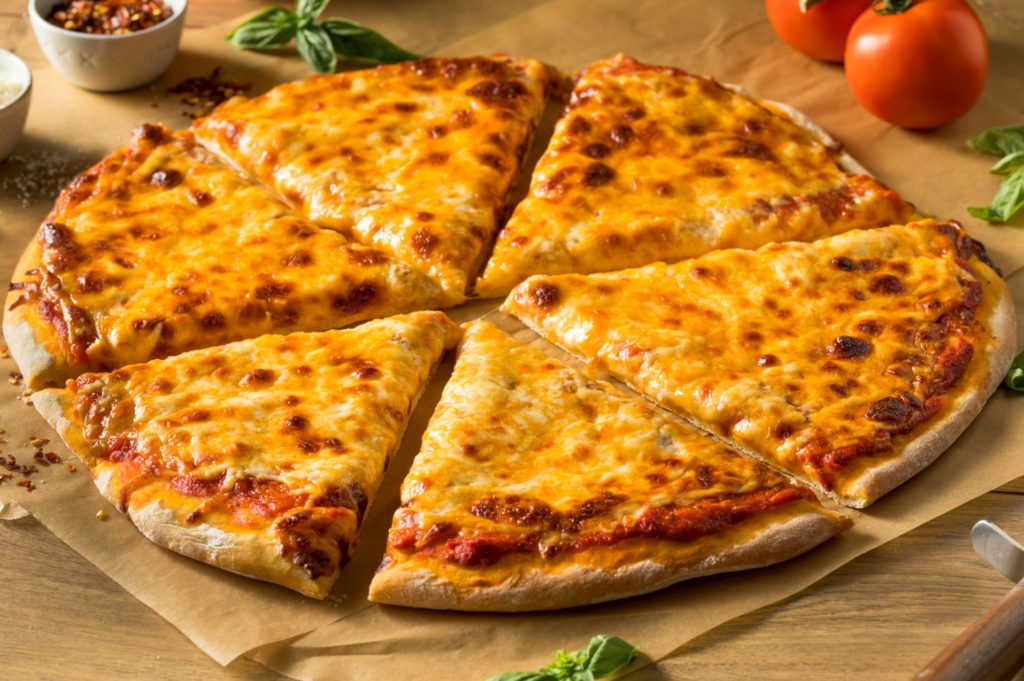 For any self-respecting foodie visiting New York, grabbing a slice of the city's famous pizza is simply a must. While those further East in Chicago will argue they do the best version of the tasty Italian dish, true pizza aficionados know that the proper stuff lies in NYC.
The country's first pizzeria was opened in Little Italy in 1905, and today the city is home to hundreds of joints each serving their own delicious version. The New York-style is based on the Neopolitan pizza, with a thin and crispy base and added toppings such as meats and vegetables.
For a quick and delicious snack while you're on the move, grab yourself a slice – one won't be hard to find as it's practically everywhere!
Chopped cheese sandwich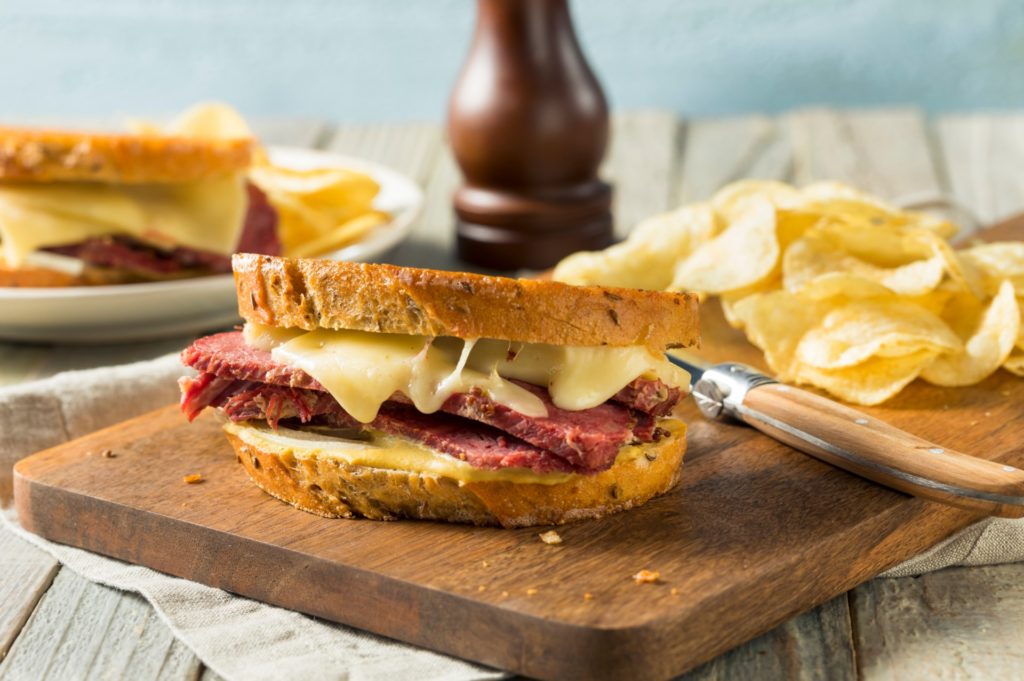 New York's answer to the 'Philly" cheesesteak – which they'll tell you is overrated and inferior – the chopped cheese sandwich is found in bodegas mainly in Harlem and the Bronx.
The sandwich is usually made with beef, onions, lettuce, tomatoes and melted cheese and its the perfect filler for those between-meals hunger strikes!
Pastrami on Rye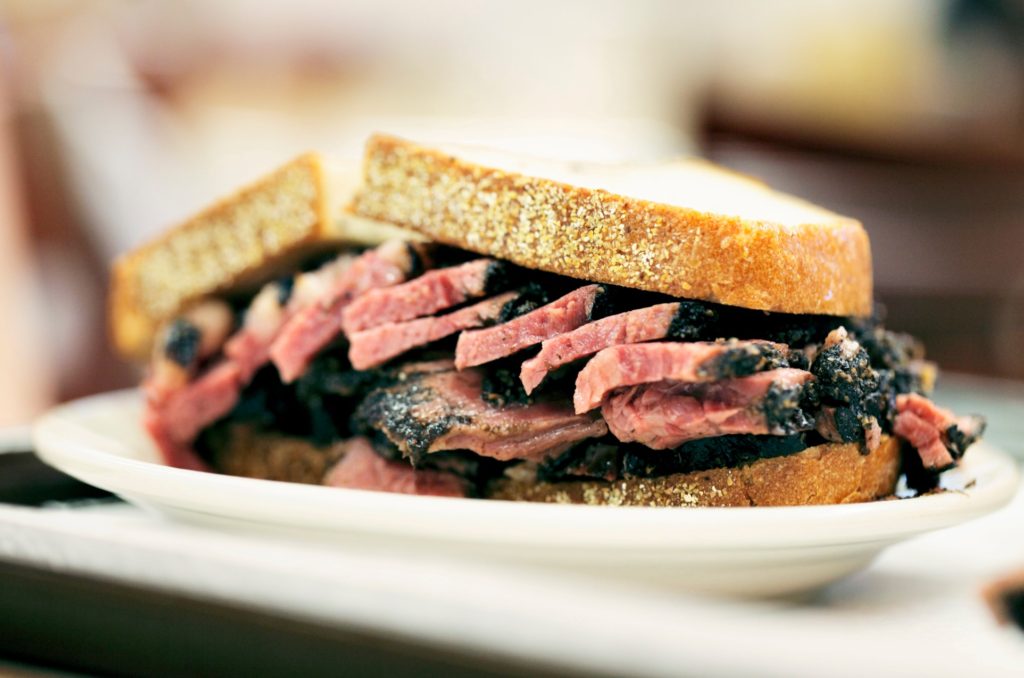 Pastrami was introduced to New York in the 1970s by Sussman Volk, a Jewish Lithuanian who had purchased the recipe from a Romanian friend. Volk then started to sell the meat, which became so popular he later opened a deli and began selling the product on rye bread.
The pairing exploded in popularity, becoming a best-seller throughout the city. Viewed by many as the number 1 sandwich of New York, if you're looking for authentic things to eat in New York then you've just found it.
Bagel & cream cheese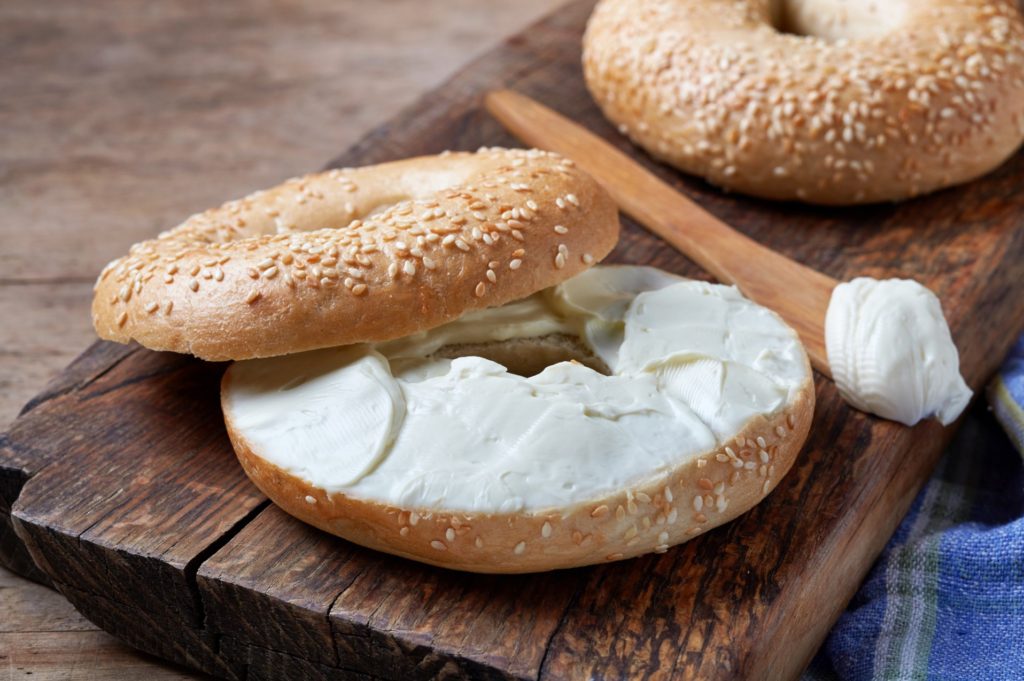 Undoubtedly one of New York's most iconic food products is the bagel with cream cheese.
You can grab a bagel, accompanied by a "schmear" of soft cheese, from vendors all over the city. Many people grab one for their breakfast on their way to work and it's certainly one of the most "New York" things you can do while you're here.
For a different taste sensation entirely, try a rainbow bagel at least once. It's a sweet, psychedelic version of the bread-based product, and while it's not to everyone's taste it sure is pretty!
Bagel & Lox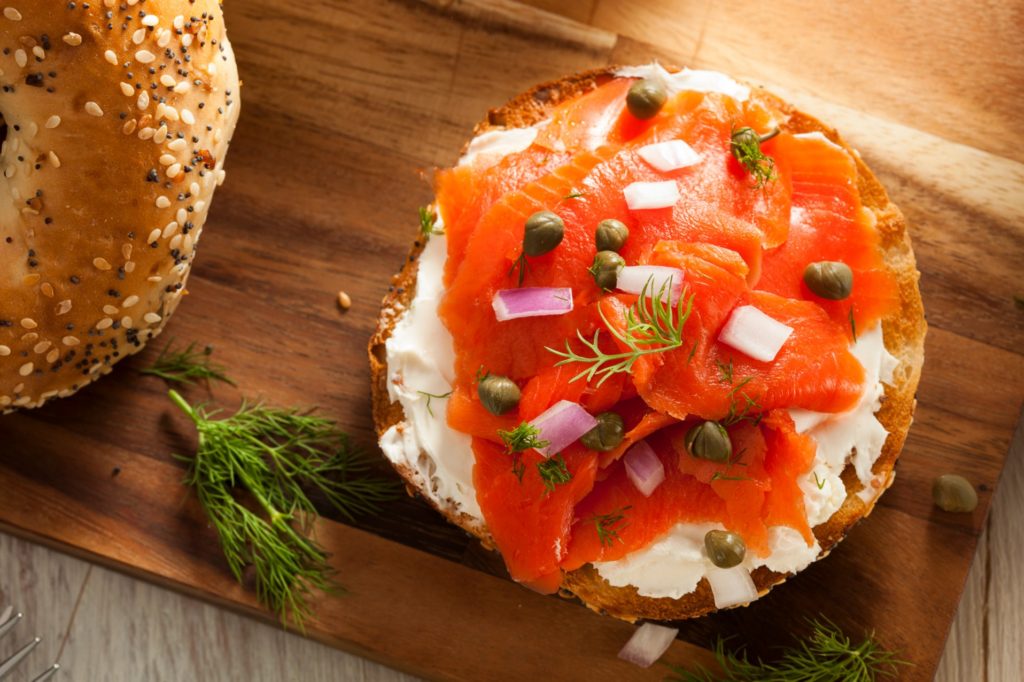 If you'd prefer your bagel with a little more protein, New York has created another iconic snack out of the doughy product with its bagel & lox.
Lox comes from the Yiddish word for salmon and, in this case, it's thinly sliced cuts of the fish – which has been cured in brine – accompanied by capers and a dollop of cream cheese on a bagel.
It's another simple and affordable snack that's ideal for picking up when you're on the move. It's also relatively healthy, which makes it a stand out inclusion on this list!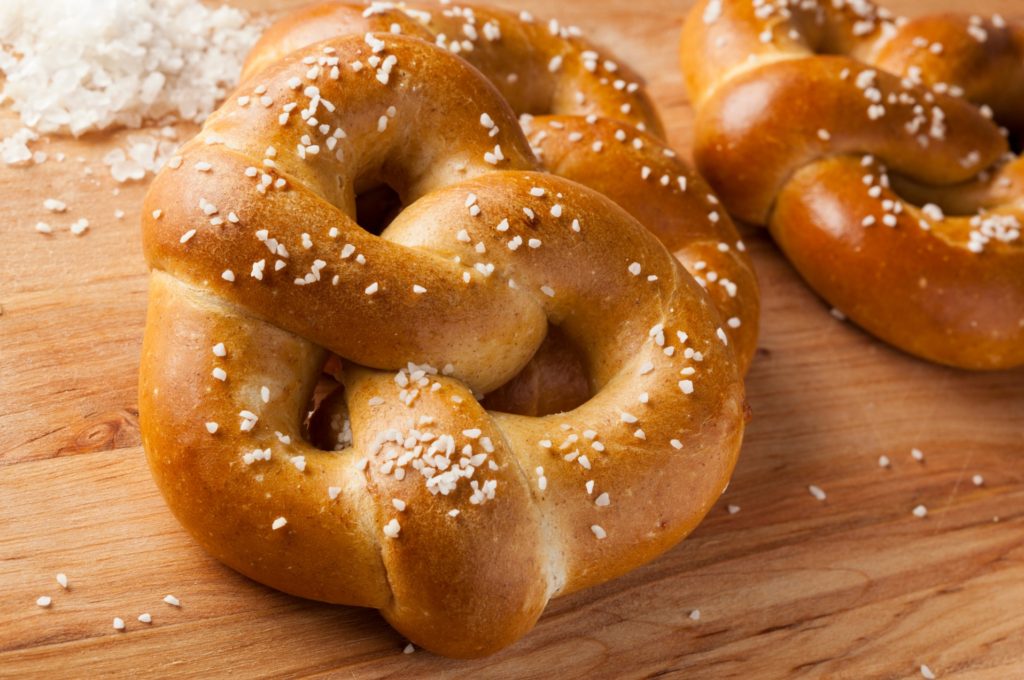 Soft Pretzel
Introduced to New York by German settlers in the late 1800s, the soft pretzel is one of New York's staple snacks and a go-to for anyone wanting a quick and easy bite-to-eat while they're out and about.
With its doughy inside and shiny hard exterior, the soft pretzel has remained pretty much unchanged since it arrived a couple of centuries ago in Union Square, where you can still pick them up today.
Black & white cookie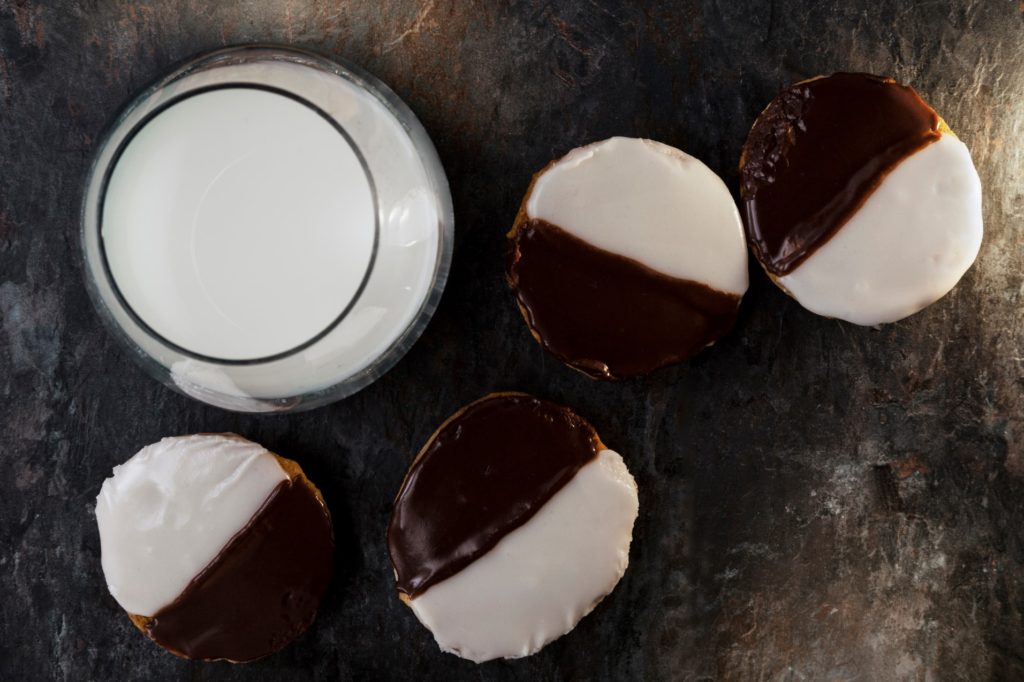 The black & white cookie is another quintessential New York snack that has woven itself into the local fabric after standing the test of time.
The sweet snack – a cookie with frosted vanilla and one side with chocolate on the other – has been a favourite among New Yorker since it arrived on the scene at Glaser's bake shop in 1902.
Certainly one for the sweet-toothed – and perhaps one to avoid if you're diabetic!
Oysters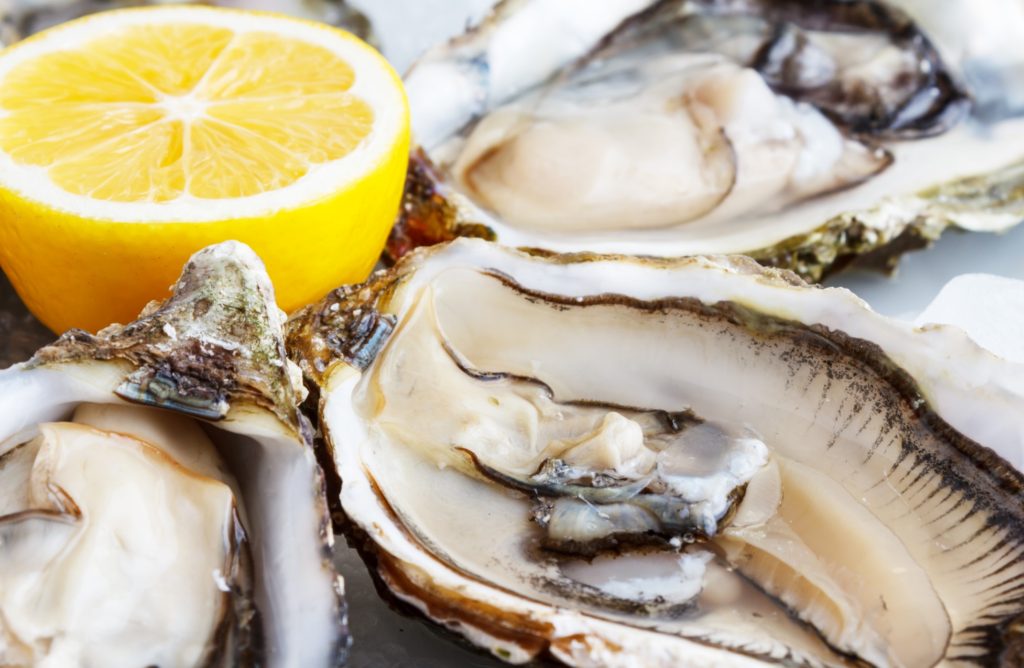 Okay, so oysters can be enjoyed the world over. However, while you don't have to travel to the US city for a taste of the salty crustaceans, they have been incredibly important throughout the history of New York, and without them, there's no question the city wouldn't be where it is today.
When settlers first arrived in New York, the surrounding waters were teeming with oysters and as well as providing a living for the many vendors who sold them, the seafood was also a dietary staple that offered vital nutrients during scarce times. The shells were also used for extracting lime, needed to build many of the city's original buildings, so the role oysters have played in New York is immeasurable.
Oysters in NYC are cheap, too. So grab yourself a plate and enjoy one of New York's most important dishes.
Sticking to the subject of food, if you're looking for delicious places to eat while you're in NYC, check out our guide to all the michelin-star restaurants in New York